Interactive story map that explores coastal access sites and natural and cultural attractions found in Wisconsin's Great Lakes communities.
---
Wisconsin Coastal Guide
Visit the Wisconsin Coastal Guide here
Overview
The Wisconsin Coastal Guide is a collection of themed, interactive story maps highlighting the natural and cultural assets found in Wisconsin's Great Lakes communities. The Guide offers learning resources about coastal issues, recreation access, cultural heritage and more. This is a great resource to share with visitors and property owners within Wisconsin's Great Lakes coastal communities. The Wisconsin Coastal Guide was developed by the University of Wisconsin Sea Grant Institute and funded by the Wisconsin Coastal Management Program and National Oceanic and Atmospheric Administration.  
The Guide's interactive maps are described below.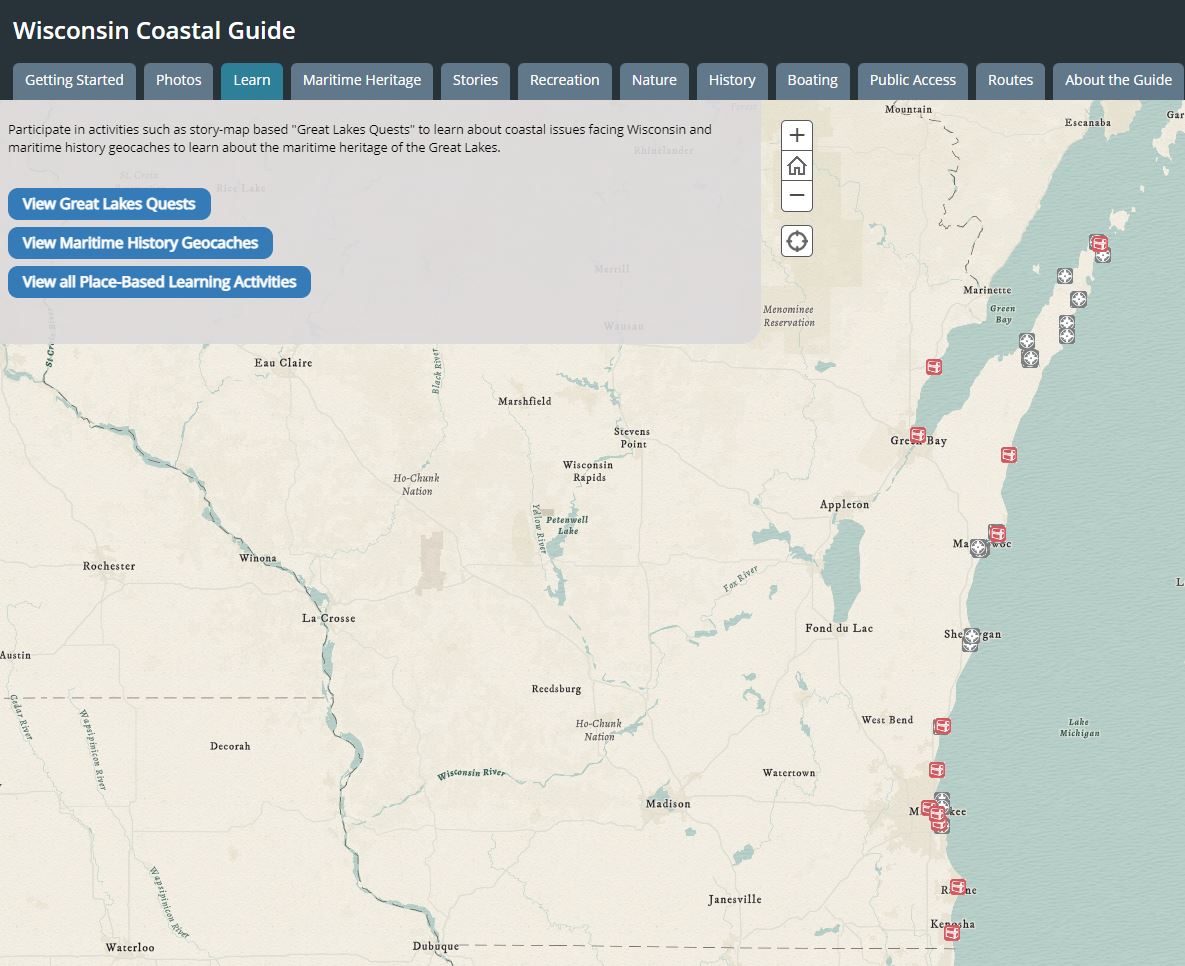 Navigating the Guide
The Wisconsin Coastal Guide has 10 themed tabs. Each tab contains an interactive map that users can explore or links to external resources. Users can display information on the interactive maps by clicking on the various data layers listed at the top of the screen. If there are any external links in the tab, they will open in a new internet tab when clicked.
Themed Tabs
Photos
This tab contains a photo collection that features photos from each of Wisconsin's 15 coastal counties. Images of the coastline and coastal communities are included. 
Learn
This tab contains place-based learning activities that teach users about Great Lakes coastal issues.
Maritime Heritage
This tab contains information about Wisconsin's maritime heritage including lighthouses, shipwrecks, fish markets, and harbor towns.
Stories
This tab contains podcasts and videos about coastal and water resource topics in Wisconsin
Recreation
This tab contains the location of, and information about, Wisconsin Great Lakes parks and beaches.
Nature
This tab contains the location of, and information about, Wisconsin Great Lakes nature centers, state natural areas, and wildlife areas.
History
This tab contains historic attractions near Wisconsin's Lake Michigan and Lake Superior coasts.
Boating
This tab contains boat access and clean marina locations and information. 
Public Access
This tab displays the Wisconsin Great Lakes Public Access Viewer. Zoom into an area of interest to identify Great Lakes access sites. Click on a site to learn more about it including the amenities that are offered there.
Routes
This tab contains driving routes including scenic byways, rustic roads, and the Great Lakes Circle Tour.
Start exploring the Wisconsin Coastal Guide