Interactive tool helping property owners understand their flood risk and select appropriate risk reduction strategies.
---
Reduce Flood Risk
Reduce Flood Risk is a new, interactive flood mitigation resource library from the Association of State Floodplain Managers (ASFPM). This tool is designed to help property owners, particularly those in flood-prone areas, understand their flood risk and the most effective flood mitigation strategies for their particular property. This tool guides property owners through a series of questions to help them understand their risk and the specific steps they can take to better protect their home or business. The tool is available online for free at ReduceFloodRisk.org.
The Reduce Flood Risk tool also has pages for renters, community association representatives, government officials, and anyone else interested in exploring strategies for reducing flood risk. You can explore these pages or browse all the available strategies listed in the resource library.
In addition to connecting you to mitigation strategies, Reduce Flood Risk also provides flood facts, insurance FAQs, and who to reach out to for further assistance.


Property Owners & Buyers
From the homepage, property owners and buyers can follow the guided questions to find appropriate flood risk reduction strategies specific to their needs. The questions are used to determine property type, foundation type, the flood hazard zone the property is located within, and history of flood risk.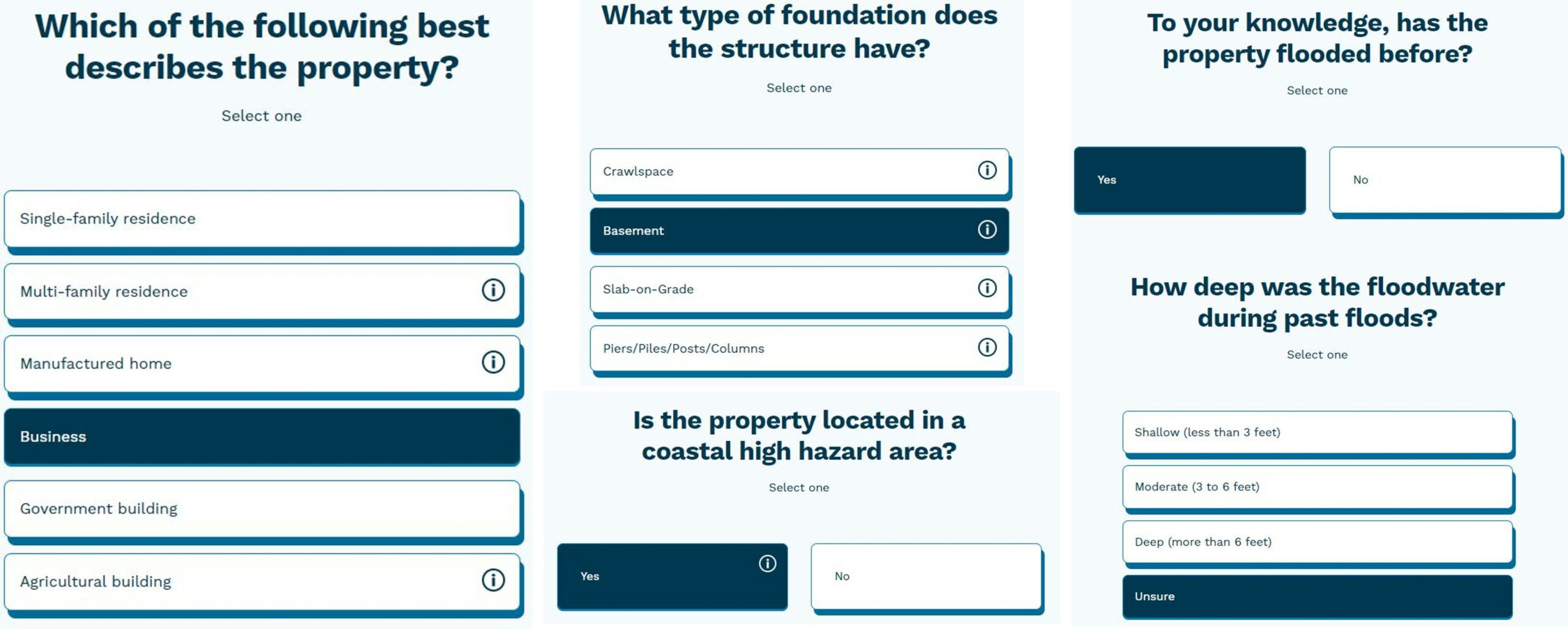 At the end of the quiz, you will be taken to a mitigation strategies page where selected strategies have been filtered for you based on your responses to the quiz. You can further filter and search for mitigation strategies by maintenance requirements, severity of flood risk, relative cost, and level of effort.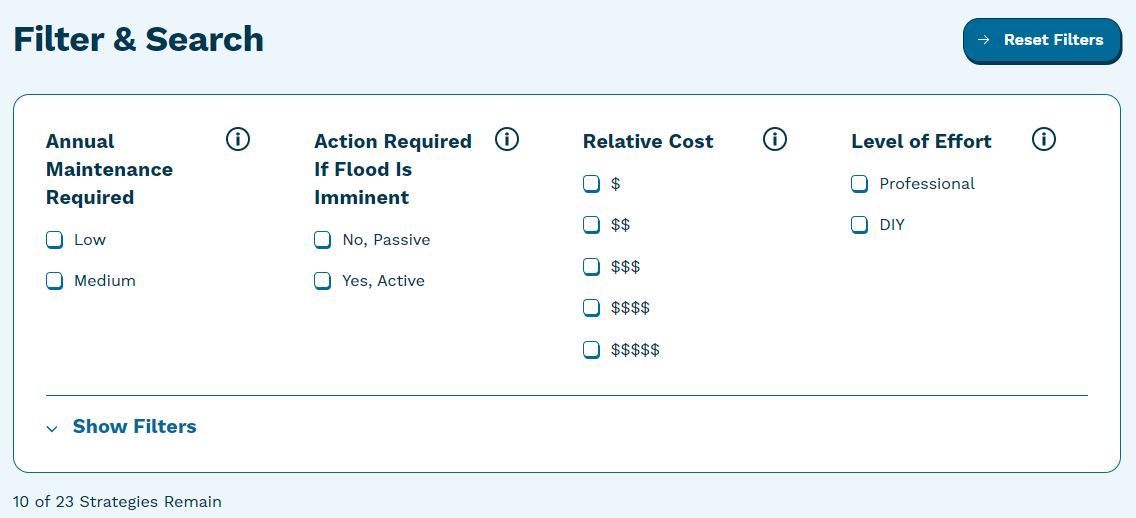 The mitigation strategies are shown as tiles on the screen. To learn more about each strategy, click on the tile to see additional information. You can also compare different strategies. To do so, select the strategies you want to compare by checking the "compare" box in their respective tiles. Then, select "compare selections." This option will show you how the strategies compare in scale, annual maintenance, relative cost, and level of effort.

Flood Facts
This section of Reduce Flood Risk provides important background information about flooding and flood risk. This section is divided into four tabs that break down key facts for the following categories:
Floodplains

Types of Flooding

Unique Flood Hazards

and Understanding Flood Risk
Practitioners & Outreach Professionals
ASFPM has created and outreach toolkit to help those who work with property owners and buyers share the Reduce Flood Risk resource. You can access the toolkit here: https://www.reducefloodrisk.org/faq/outreach-toolkit/
Click here to explore strategies for mitigating your flood risk!