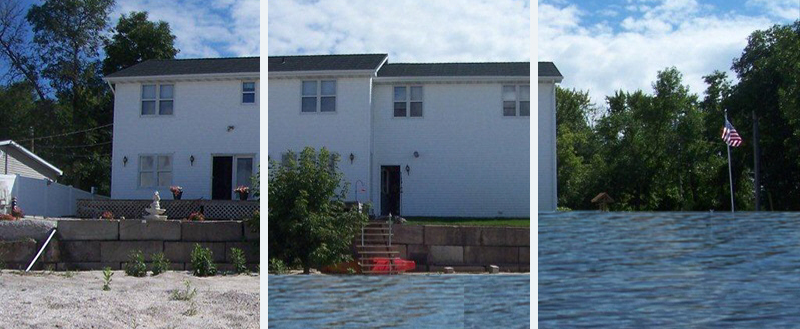 The planning guide features information, ideas and advice related to combating coastal hazards, such as coastal flooding, in Great Lakes communities.
---
Great Lakes Coastal Resilience Planning Guide
Overview of the Guide 
The Great Lakes Coastal Resilience (GLCR) Planning Guide is a hub of ideas, advice and resources. The Guide aims to connect members of the Great Lakes Coastal Communities through the use of case studies, local stories, climate and environment information, and GLCR Resources. Whether you are a homeowner, community/government official, or simply have an interest in Coastal Resilience, the GLCR Planning Guide can offer data, advice, and connections to help solve the problems associated with coastal hazards.   
Useful Tools  
The Case Studies tool offers solutions and strategies to address coastal hazards. The solutions and strategies come from community members that have experienced the impacts of coastal hazards in their community and have done something about it. This tool allows people to learn from each other and implement solutions specific to their own region.  
The Local Stories tool features the impacts that coastal hazards have had on Great Lakes communities. In addition to showing the various impacts of hazards on coastal communities, each story shares solutions that are being implemented to mitigate the issue. These stories are useful because they can offer insight to community members regarding how to manage coastal hazards such as flooding, bluff failure, and wetland conservation. 
The Climate and Environment tool presents scientific information about the ever-changing Great Lakes environment. This tool is broken down into six sections: Physical Characteristics, People in the Great Lakes, Climate & Natural Processes, Coastal Hazards & Risks, Climate Change, and Planning for Climate Change. This information is important to understanding why coastal hazards occur, and how we might address and plan for these coastal hazards.  
The GLCR Resources tool provides resources ranging from databases to solutions to coastal protection structural failures. These resources can be used to learn about coastal hazards and how to protect communities from the hazards. Some examples of the resources offered can be found below in the GLCR Resource Highlights section.  
GLCR Resource Highlights  
Failing Coastal Wood Infrastructure on the Great Lakes 
Wood structures have been used along the coastline for years. These wood structures are used as harbor breakwaters to protect the shoreline, protection for slip walls from ship impacts and wear, and timber walls. When the timber stays submerged, the wood can last for a long time. Issues arise when the timber is exposed to wet and dry cycles which cause the wood to rot. This resource discusses how to repair failing structures based on the type and extent of failure. To learn more about repairing a failing wood structures along the coast, check out Failing Coastal Wood Infrastructure on the Great Lakes which can be found on the GLCR Resource page.  
Climate Change Implications and Adaptation Strategies for Great Lakes Ports, Harbors and Marinas 
The effects of climate change are being seen in the form of extreme coastal storms and variability in water levels and ice cover, which call for an adaptation of coastal infrastructure. The Ports, Harbors, and Marinas Climate Change Fact Sheet dives into the issues that could arise due to a changing climate and how to enhance coastal structures in preparation for those changing conditions. For example, the fact sheet recommends converting fixed docks to floating docks to combat the extreme variability of water levels. Check out the fact sheet here, to learn more about the implications that climate change has on the ports, harbors, and marinas of the Great Lakes.  
To submit your own experiences and stories, email info@greatlakesresilience.org. Lessons that you have learned can help others with their future endeavors. 
Check out the GLCR Planning Guide here.