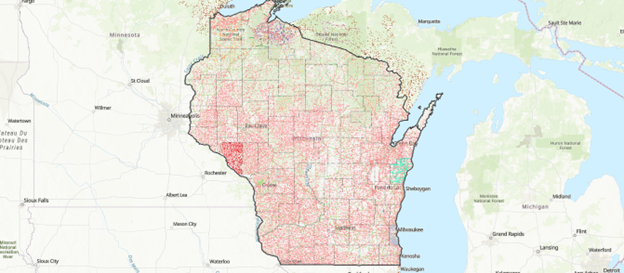 An inventory of culvert infrastructure across Wisconsin.
---
Wisconsin Culvert Inventory Database and Online Mapping App
 Overview
The Wisconsin Coastal-Management Data Infrastructure (WICDI) Project provided data, tools and training to coastal communities in Wisconsin. Increased frequency and intensity of rain events can cause damage to infrastructure including culverts. Culverts were inventoried and mapped to help identify at-risk culverts and justify infrastructure upgrades or replacements. WICDI provided resources needed for coastal and culvert managers to quickly and appropriately respond to damages or identify vulnerable culverts before catastrophe.
What You'll Find in the Inventory & App
One of the outputs of the WICDI project is a standardized culvert database, developed with support from partners across the state.
The database is available for download with full metadata from geodata@wisconsin here. An online culvert app, allowing access to the dataset, is available here.
The app differentiates culverts using symbology based on data source. Each culvert can be clicked on to get the full list of attributes and values. Download of the dataset from the app is facilitated with a link to the Geodata@Wisconsin record.
Funding
This effort was funded through the Wisconsin Coastal Management Program and the National Oceanic and Atmospheric Administration, Office for Coastal Management under the Coastal Zone Management Act, Grant # NA18NOS4190087, Grant # NA20NOS4190105 and Grant #NA21NOS4190032.