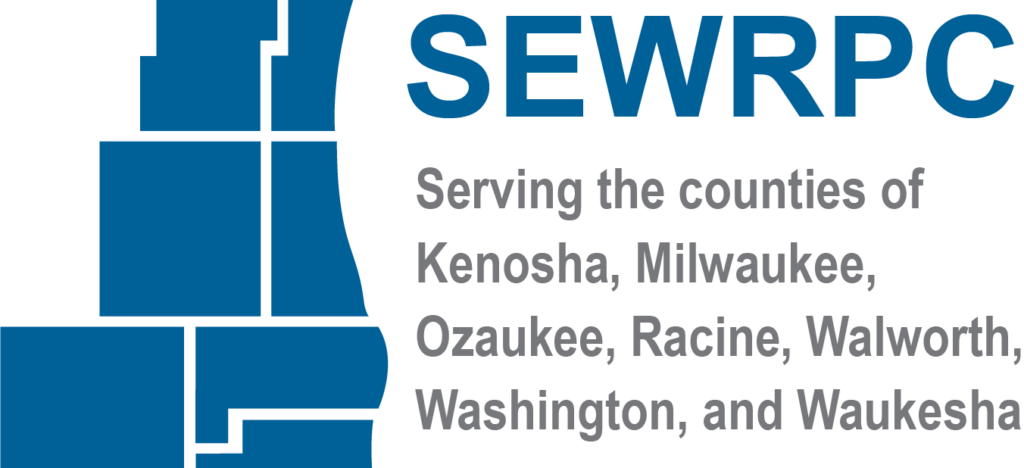 Southeastern Wisconsin Regional Planning Commission provides information and planning services to help solve technical problems.
---
Southeastern Wisconsin Regional Planning Commission


Who Are They?
The Southeastern Wisconsin Regional Planning Commission (SEWRPC) provides essential information and planning services to help solve technical problems and focus regional attention on key issues of regional consequences. Their regional approach is necessary for properly planning and designing public work systems and addressing environmental issues, such as coastal resilience. SEWRPC serves seven counties in southeastern Wisconsin: Kenosha, Milwaukee, Ozaukee, Racine, Walworth, Washington, and Waukesha.
How Does SEWRPC Support Coastal Resilience?
SEWRPC assists with or conducts its own activities and provides resources to address building coastal resilience. These services are listed out below with details:
Coastal Management Activities
The Commission conducts many activities within the coastal zone of Lake Michigan to help counties and communities deal with coastal issues, such as near-shore water quality, habitat value, and coastal hazards. These activities include conducting field investigations for wetlands and other sensitive lands, reviewing proposed sanitary sewer extensions, assisting counties, local units of government, and nonprofit organizations with coastal projects, and assisting the Wisconsin Coastal Management Program.
Environmental Planning
SEWRPC addresses environmental issues at a watershed scale for its basic planning unit. They have a series of legacy comprehensive watershed plans that address interrelated problems in each major watershed, focusing on water quality and floodland management. Plans for the Milwaukee, Menomonee, Kinnickinnic, and Oak Creek River watersheds can be found through their publication search page. While dated, many recommendations from these plans remain highly relevant today.
They have also worked with local units of government and the Wisconsin Department of Natural Resources to prepare watershed protection plans and provide counties with assistance to update their Land and Water Resource Management Plans and develop watershed restoration plans.
Community Planning 
SEWRPC has a community assistance program that assists with updating plans and guidance on plan implementation activities. They will assist counties and local governments with updating comprehensive plans that guide that community's physical, social, and economic development. Coastal resources, hazards, and resilience can be discussed within the nine required elements of a plan defined by the Comprehensive Planning Law (s. 66.1001). SEWRPC will also assist counties and local governments with updating Hazard Mitigation plans. Coastal hazards can be included in the plan's risk assessment and mitigation strategy sections, similar to the Kenosha County Hazard Mitigation Plan Update: 2017-2022.
Additionally, the Commission has planning guides that discuss planning and plan implementation practice, contain examples of good planning and plan implementation practice, and provide local governments with model ordinances and forms to assist them in their planning efforts. There is a planning guide for floodland and shoreland development and updates to the guide and zoning ordinances.
Maps and Data
SEWRPC provides base maps of the southeast region and subarea, such as watersheds, and maintains a land use database that can be used to update land use plans.
Connect with SEWRPC
The Commission actively supports coastal communities addressing planning needs to mitigate coastal hazards and building coastal resiliency. Visit SEWRPC's website to learn more about the services described above.
Sign-up for their electronic newsletter to stay informed on the latest developments and regional news related to the issues SEWRPC addresses!