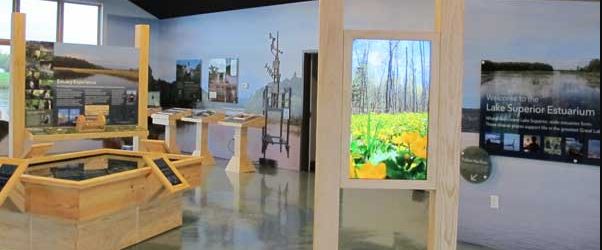 The Lake Superior National Estuarine Research Reserve protects and studies the Green Bay estuary.
---
Lake Superior National Estuarine Research Reserve


Who Are They?
The Lake Superior National Estuarine Research Reserve works to improve the understanding of Lake Superior's coast and estuaries by addressing issues through the integration of research, education, outreach, and stewardship. The Reserve is part of the University of Wisconsin-Madison Division of Extension's Natural Resource Institute with leadership from NOAA and membership in the National Estuarine Research Reserve System. It is based on the University of Wisconsin-Superior campus in the City of Superiors and encompasses over 16,000 acres along the St. Louis River freshwater estuary in Wisconsin.
The Lake Superior NERR is one of only two estuarine reserves in the Reserve System located on the Great Lakes. The research, education, outreach, and stewardship done by the Reserve and its partners are vital to understanding freshwater resources and the health of the Great Lakes. 
How Does the Lake Superior NERR Support Coastal Resilience?
Through research, education, outreach, and stewardship, the Reserve provides programs and supports projects to help build more coastal resiliency. 
Research
The Reserve conducts its own scientific research while also partnering with scientists from research universities and government agencies. The research and monitoring done at the Reserve by Reserve staff and partners are guided by several priorities: climate change, invasive species, pollutants, freshwater estuary research, species of special interest, restoration, and social science. The research they do here can help inform resiliency management across the Great Lakes. 
Education
The Reserve provides place-based and outdoor learning in addition to environmental communication and media that support schools, educators and youth in learning about and experiencing Lake Superior. The Reserve utilizes The Lake Superior Estuarium, an interpretive center open to the public, to host community education programming.
Coastal Training
The Reserve also has a Coastal Training Program that provides skills training and collaborative learning opportunities that inspire thoughtful management of Lake Superior by coastal decision makers. For example, the program is currently leading the Lake Superior Climate Champions program, which provides a yearlong structured opportunity for Northern Wisconsin communities teams to work on a chosen goal that addresses climate change with guided climate learning and tailored assistance. This program is currently only available for the four communities in the four Wisconsin coastal counties along Lake Superior.
Connect with the Lake Superior NERR
The Reserve is active in supporting Lake Superior's coast, estuaries, and communities in order to address coastal hazards and build coastal resilience. Visit their website to learn more about their work.