A clearinghouse for a wide variety of data, tools, and trainings related to coastal resiliency.
---
Diving into the Digital Coast: Great Lakes
Home: NOAA Digital Coast
Overview
The NOAA Digital Coast is a clearinghouse for a wide variety of data, tools, and trainings related to coastal resiliency. It contains hundreds of different resources that can be searched for and filtered based on focus areas such as coastal hazards, community resilience, etc.; data types like land cover, weather, etc.; regions like the Great Lakes; and tool types such as visualization, reporting, etc.
NOAA has recently put together a recorded training on how to navigate the website with resources related to the Great Lakes. The virtual training recording can be found here and a list of the featured resources is also available: Diving into the Digital Coast Great Lakes resources
The content found in these resources can be used by community leaders, the public and decision-makers to make informed decisions affecting the coast. It can be used to inform relevant groups about coastal processes, promote success stories to be modeled off of, and access tools for further education.
The NOAA Digital Coast contains multiple categories of resources:
Highlights
Data Access Viewer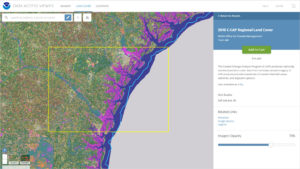 Datasets are a major component of the Digital Coast and in our opinion, one of the most useful resources. The latest Data Access Viewer is an interactive platform in a map-based format. It allows you to look up and download imagery, land cover, and elevation lidar data for the coastal US including the Great Lakes regions. It is an authoritative source for up-to-date and accurate land information data that is highly customizable for your projects. Even though you will add datasets to your "cart" the information is free.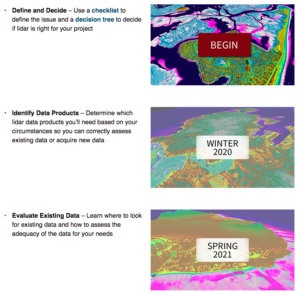 Working with Lidar
There are a large number of trainings on NOAA's Digital Coast. Some of which are instructor-led, others are self-guided. They usually last between an hour to a few days. The content of these trainings involves coastal hazards, risk communications, coastal management, mapping, etc. One training that we found useful for understanding and working with lidar information for the Great Lakes called Working with Lidar. This training will help you understand if lidar is the right tool for your project and the basics of how to use it for assessment purposes.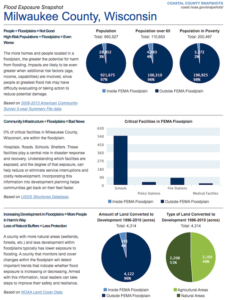 Coastal County Snapshots
One of the more useful tools we found within the host of NOAA Digital Coast tool catalog is the Coastal County Snapshots tool. It lets the user choose a state and county of interest to assess. Three different snapshots are available for most coastal counties. Flood Exposure data offers a quick look at pertinent demographic, infrastructure and environmental concerns within the floodplain. Ocean Jobs incorporates how the economic value of jobs along the coast is impactful. Lastly, Wetland Benefits allow the user to quickly understand how wetlands contribute to coastal resiliency.