Spring 2018 Coastal Resilience Community of Practice Meeting

A spring meeting for the Southeastern Wisconsin Coastal Resilience Community of Practice was held in Cudahy, WI on May 2nd. Three guest speakers shared information on shoreline and bluff erosion processes as well as some possible steps and resources to address these issues. Professor David Mickelson from UW-Madison Geosciences spoke about Great Lakes bluff failure processes and shared recent pictures of bluffs in the region. Professor Mickelson emphasized that due to differences in how bluffs fail, some bluffs may not yet be experiencing noticeable effects at the top but erosion by waves at the bottom of the bluff may be actively destabilizing the slope, which can lead to eventual failure. Professor Chin Wu of UW-Madison Civil and Environmental Engineering discussed coastal erosion and shared some observations of the positive and negative effects of shore protection structures. Katie Sommers of Wisconsin Emergency Management spoke about hazard mitigation assistance programs and how these programs might be used to help address shoreline erosion issues.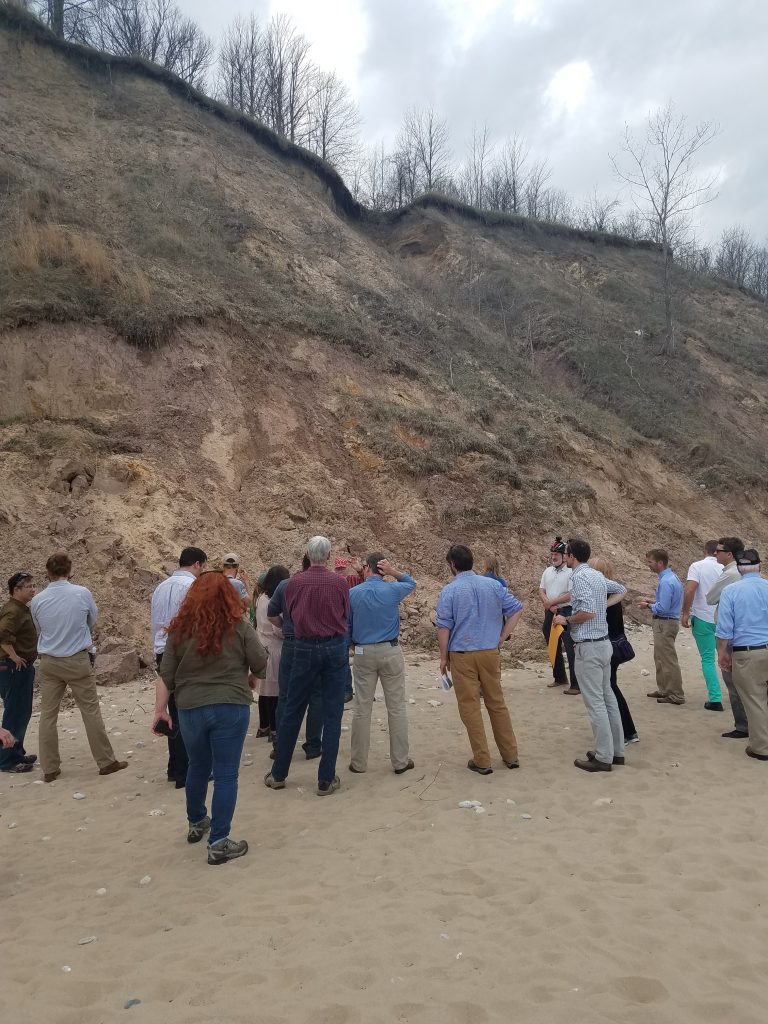 After the meeting, professor Mickelson led a field trip to the nearby bluffs and beaches of Sheridan Park to explain the geology and erosion processes of the coast first-hand. The trip started at the top of the bluffs with a discussion the landscape and the effects of nearby coastal structures on the shoreline. The group then ventured down to the water, where professor Mickelson highlighted the geological composition of the bluffs laid down by glaciers, evident in the different layers of sediment that make up the bluffs. The effects of wave erosion were evident based on the steep slope at the base of the bluffs. A geologic story was also told by the beach, where we found some rocks that appeared to be transported all the way from Lake Superior and other "rocks" that were clearly weathered, old concrete. The field trip was also a great place for attendees to talk informally about their shoreline issues and share ideas about solutions.
---
June 14, 2018 | By Adam Bechle, Coastal Resilience Outreach Specialist, Wisconsin Sea Grant