An inventory of funding sources to support coastal hazards and resilience projects.
---
Coastal Hazards & Resilience Funding Inventory
Visit the Funding Inventory
Overview
An inventory of funding opportunities that can be used specifically towards addressing coastal hazards and building coastal resilience is now available on the Wisconsin Coastal Resilience website. The Coastal Hazards and Resilience Funding Inventory was developed to help connect Wisconsin's coastal communities to funding opportunities that could specifically be used for hazards and resilience projects in Wisconsin. The inventory provides a description of each funding opportunity and links to find more information. Case studies can be explored about how Wisconsin's Great Lakes coastal communities have creatively leveraged different funding sources highlighted in the inventory and the lessons that they've learned.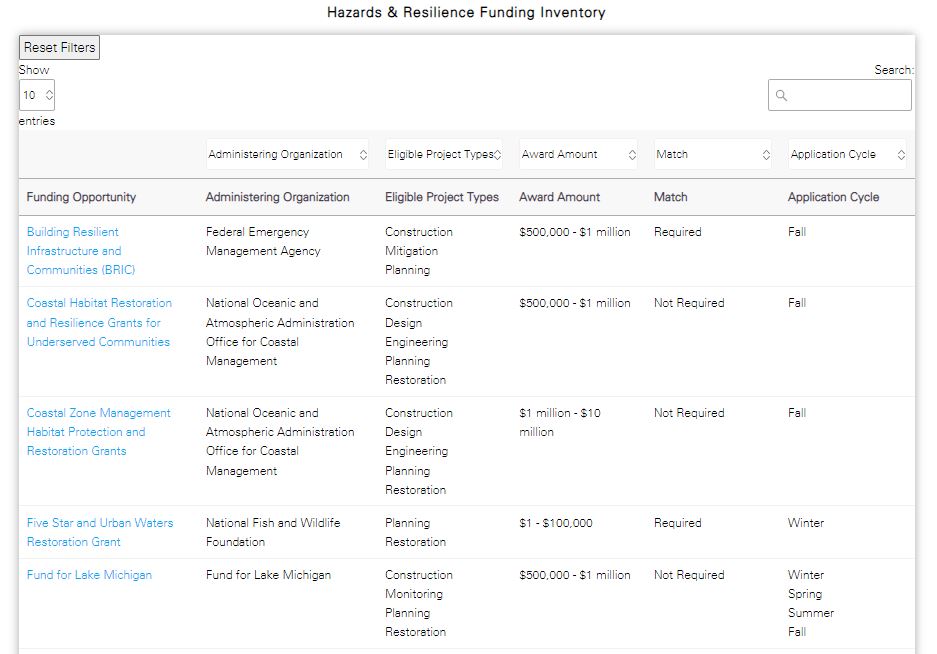 You can search for a specific funding opportunity in the inventory by typing key words into the search bar. You can also use filters to find opportunities that fit your specific needs. Funding opportunities can be filtered by the following categories:
Administering Organization

Eligible Project Types

Award Amounts

Match Requirements

Application Cycle
Clicking on the title of a funding opportunity in the inventory will take you to a page with more information. This page includes details about:
Administering Organization

Eligible Project Types

Award Amounts

Match Requirements

Application Cycle

Funding Categories or Priorities

Eligible Applicants

Geographic Parameters

Due Date of the Previous Application Cycle

Special Notes

Links to More Information

Contact Information
Along with the inventory, you can find a list of additional funding sources that could be used to support components of a hazards or resilience project such as flooding, habitat, water quality, or habitat. 

The Samuel Myers Park case study shows how Racine, WI was able to leverage multiple funding sources at the same time to support a coastal resilience project that included water quality elements.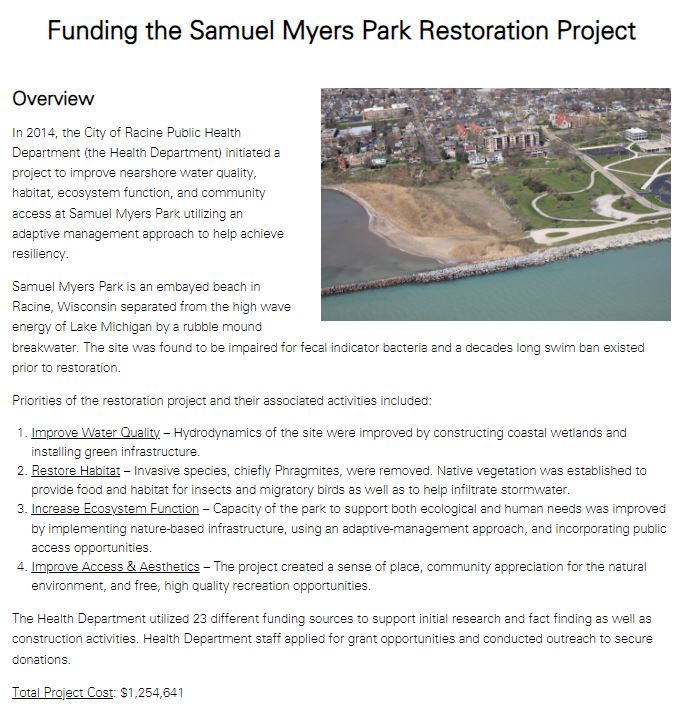 The inventory will be updated to reflect any changes to existing funding sources or new funding sources that become available.