Summary of the Winter 2023 CALM Network Meeting held virtually on February 2, 2023.
---
Winter 2023 CALM Network Meeting Summary
The Collaborative Action for Lake Michigan (CALM) Coastal Resilience network meeting was held virtually on February 2, 2023. CALM is a network for communities along Wisconsin's entire Lake Michigan coastline working to increase collaboration, support development of local policies and plans, and coordinate the regional prioritization of hazard needs.
This meeting of the CALM network featured presentations about resilience and climate adaptation projects that have leveraged different types of funding sources. Presentations were followed by an opportunity for attendees to connect with each other via breakout rooms on the topics of climate adaptation and coastal resilience.
The event was attended by more than 30 stakeholders from state agencies, local municipalities, academic institutions, consulting and engineering firms, sewerage districts, non-profit organizations, regional planning commissions, as well as other organizations and partnerships working on coastal resilience in Wisconsin.
A recording of this meeting is available below along with a summary of the meeting's presentations and discussion session.
If you do not already receive the monthly Wisconsin Coastal Resilience Newsletter, you can sign up online. The newsletter highlights new or relevant tools and resources, case studies, events, funding sources, and opportunities to collaborate with others in the CALM network. If you have content to add to the newsletter, reach out to Lydia Salus.
Recording


Summary
This meeting featured presentations about resilience and climate adaptation projects that have leveraged different types of funding sources. Throughout the meeting, speakers shared on-the-ground projects that are tackling coastal resilience and climate adaptation issues. In addition, the presenters shared how they were able to fund these projects. Speakers and topics included:
Network Updates
Lydia Salus, Wisconsin Sea Grant & Wisconsin Coastal Management Program
In the fall of 2022, the CALM network participated in a field trip series to Sam Myers Park in Racine, WI and Virmond Park in Mequon, WI. These field trips brought the CALM community together to talk about coastal hazards issues and see the different ways that Lake Michigan coastal communities have moved forward in addressing those issues. Virtual walking tours of both field trips will be made available online. The Sam Myers walking tour is available on the Wisconsin Coastal Resilience website. The Virmond Park walking tour is still being worked on in partnership with the Ozaukee County Planning and Parks Department.
New case studies have been added to the Wisconsin Coastal Resilience website emphasizing actions communities have taken to update their policies and plans to support coastal resilience.
An inventory of funding opportunities that can be used for hazards and resilience projects is coming soon the Wisconsin Coastal Resilience website. Currently, you can find funding opportunities for related coastal work including wetlands, flooding, habitat, water quality, green infrastructure, JEDI, and data.
Klode Park Beach Restoration & Shoreline Stabilization
John Edlebeck, Village of Whitefish Bay
John discussed how the Village of Whitefish Bay restored Klode Park beach utilizing FEMA and Wisconsin Emergency Management disaster declaration grant funds. After the winter storm of January 2020, erosion limited beach access and created a dangerous drop-off at Klode Park. A disaster declaration after the storm event allowed the Village to access FEMA funds. John shared before and after pictures of the project highlighting the damage caused by the storm and the engineering, design, and construction work that took place at Klode Park Beach.
From the process, the Village learned that WEM is a good partner for navigating FEMA funding opportunities. Additionally, John shared that the FEMA grant process requires significant staff capacity. Finally, he shared the importance of communicating with the public throughout the entire project.
John answered questions about (1) the documentation required for FEMA grants, (2) the project timeline, and (3) permitting requirements.
Impact of Lake Michigan Water Levels on MMSD Assets
Susan Coyle, Milwaukee Metropolitan Sewerage District
Susan presented about a lake level study that looked at how Lake Michigan water levels could impact district assets and infrastructure and some considerations for how the district can adapt to future lake conditions.
This project was also instigated by the January 2020 storm event. District infrastructure can be negatively impacted by both high and low water levels. Analysis parameters for this study accounted for Lake Michigan water levels as well as riverine systems as they have infrastructure in both places. Susan described the vulnerabilities of the District's assets identified by this study and provided recommendations for mitigating the hazards including green infrastructure.
Susan answered questions about (1) the history of flooding on Jones Island, (2) the impact of the new FEMA flood maps, and (3) placement of protective infrastructure.
Monroe County Climate Change Task Force
Bob Micheel, Monroe County Land Conservation Department
Bob came to us from outside the coastal zone with a model for how Monroe County was able to form and fund a climate change task force. Bob also shared what the task force has been able to accomplish so far. Since 2007 there have been more than 20 major flooding events in Monroe County causing over 33 million dollars in damage to infrastructure and homes. Monroe County passed a resolution acknowledging the impacts of climate change in the community and supporting the development of the climate change task force to address those challenges.
The task force has coordinated with emergency management and the National Weather Service to purchase stream flow monitoring stations. Data from these stations are used by the National Weather Service in an online platform that warns residents of flood conditions. Additionally, after a disaster declaration in 2018, Monroe County was able to use federal funds to buyout homes located in the floodway. To further improve flood resiliency, the task force has studied and assessed culvert crossings, managed runoff through implementation of agricultural best practices, and participated in a 'climate readiness and rural economic opportunity assessment' with Green Fire and other partners.
Bob answered questions about (1) navigating use of climate change terminology and (2) partnering with the National Weather Service.
Breakout Room Discussion
One component of the meeting was the opportunity for attendees to discuss climate adaptation and coastal resilience with one another. Attendees joined breakout rooms to discuss three different prompts. After the breakout rooms, a facilitator shared what each group discussed.
Prompts:
What is your number one resiliency or adaptation issue?

What is your current plan to deal with your issue?

What can CALM do to help you move forward?
Below is a summary of the group discussions of these prompts:
What is your number on resiliency or adaptation issue?
Below is a word cloud displaying key resiliency or adaptation issues identified at this meeting.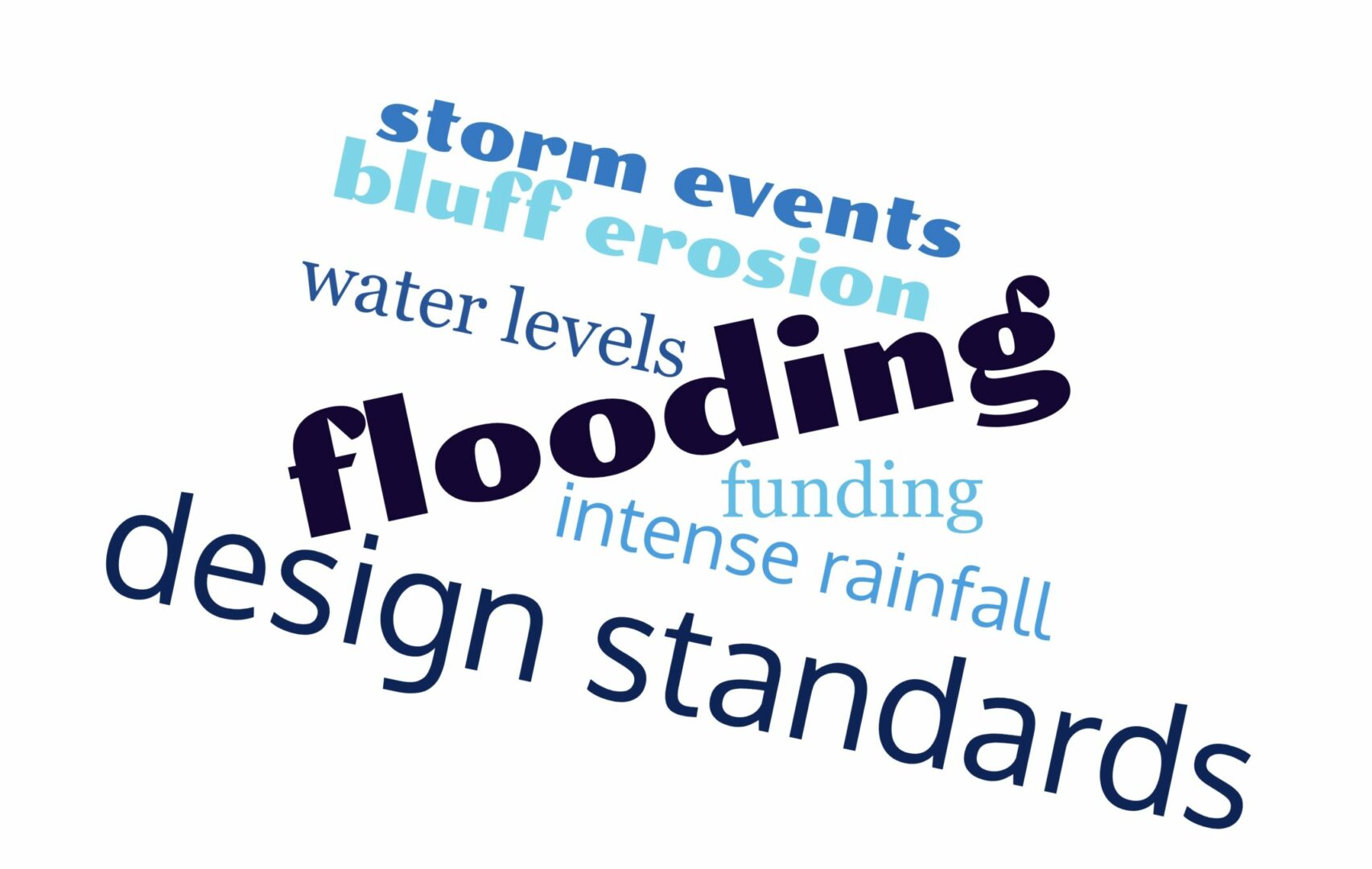 Specifically, it was discussed that changing climate conditions, such as precipitation, impact design standards and make project design a challenge. Creating community buy-in was identified as a challenge as well as public education and creating tools for private landowners to implement. Additionally, data was discussed as a limiting factor in being able to make informed management decisions. Furthermore, identifying how to take a community-wide approach to building resilience was discussed as a challenge related to these issues.
What is your current plan to deal with your issue?
 A lot of work is happening to address resilience and climate adaptation issues. Actions discussed in the breakout rooms fell into five categories including gathering or developing data, planning, education, leveraging funding, and collaboration. Listed below are some of the specific actions people are taking in each of these categories.
Data
Utilizing WICCI to stay up to date on data such as precipitation data.

Collecting and analyzing additional data.

Integrating with other data sources such as state and federal.

Expanding existing monitoring efforts on projects.
Planning
Leveraging funding sources (federal and otherwise) to facilitate regional and local planning.

Incorporating coastal resilience and climate change in planning efforts:

Hazard mitigation plans

Comprehensive plans

Land use plans

Participating in lake-wide action planning.
Education
Sharing flooding resources with the public (e.g. Reducefloodrisk.org)

Using pictures and case studies to illustrate changing site/climate conditions over time.

Translating data for public uses and support.

Hosting events such as Love Your Great Lakes Day.

Encouraging more soil health workshops.
Funding
Leveraging non-cash match/in-kind opportunities.

Working with partners to develop creative funding solutions.

Exploring new grant opportunities and grant types.
Collaboration
Participating in informal groups tackling these issues.

Participating in regional/professional networks.

Looking for new ways to connect with coastal communities.
What can CALM do to help you move forward?
Moving forward, it was discussed in each of the breakout rooms that CALM should continue to meet as a network. At the meetings we should continue to have communities present on their work to promote peer-to-peer learning. Future discussions could elaborate on climate adaptation; for example, discussing how to design projects to account for climate change.
There was also consensus among the breakout rooms that we should continue distributing the Wisconsin Coastal Resilience newsletter. The newsletter helps the network stay up to date on what is happening in the coastal region. It would be valuable for communities and organizations to share new information that becomes available via the newsletter.
In the future, CALM could help facilitate collaboration on projects, funding sources, and data collection. An additional way CALM could help move resilience and adaptation efforts forward is through public outreach.
Spring Network Meeting Planning
The next CALM event is expected to be held in Spring 2023. Attendees expressed interest in both a virtual and an in-person spring meeting, but noted that it is easier to attend a virtual event because it eliminates the need to travel. However, people are still interested in connecting with one another at the meeting.
For questions or comments about CALM, please contact Lydia Salus, Project Coordinator.
(608) 266-3687    |    lydia.salus@wisconsin.gov