Meeting summary for the SE WI Coastal Resilience Community of Practice meeting held in-person on January 18, 2019.
---
Winter 2019 Coastal Resilience Community of Practice Meeting

A winter meeting for the Southeastern Wisconsin Coastal Resilience Community of Practice was held at Gateway Technical College in Racine, WI on January 18th , 2019. The purpose of this meeting was to discuss ways to address coastal hazard issues and introduce some new tools that can help with coastal hazard planning. This meeting was attended by 20 local government staff members representing four counties and ten municipalities in southeastern Wisconsin.
The meeting was led off with a set of presentations by the local governments who will be receiving grants to plan and prepare for coastal hazards. A total of eight projects were selected for funding for activities including shore protection redesign, policy review or development, park/beach management plans, infrastructure inspection, and public education. Each recipient discussed the goals of their project and how the project will address community needs identified in the Coastal Resilience Self-Assessment they completed. This was a great opportunity for communities to learn from each other and this exchange of ideas will continue as the projects progress.  More information on individual projects will be available later in 2019 as they ramp up.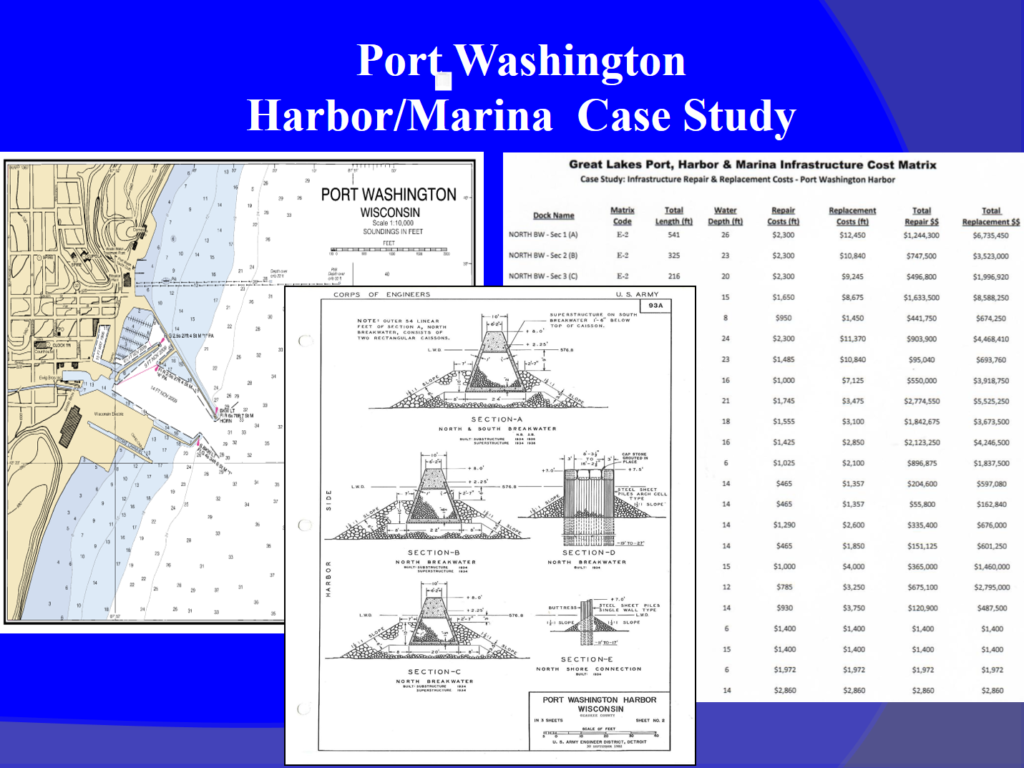 Next, Gene Clark, Wisconsin Sea Grant Coastal Engineering Specialist, introduced an update to the "Great Lakes Port, Harbor and Marina Infrastructure Cost Matrix and Dredging Contract Database". Referred to as "The Matrix", this tool is intended to help users estimate of the cost to repair and/or replace common Great Lakes port, harbor, and marina infrastructure as well as the cost to dredge navigation channels. The Matrix was updated and expanded by Gene from a previous incarnation to include infrastructure common in small commercial ports and recreational harbors and incorporate current (2018) cost estimates numbers. Gene provided meeting attendees with a draft of the updated Matrix and presented a case study of how The Matrix was implemented in Port Washington. In his case study, Gene showed how he examined Army Corps plans to determine harbor infrastructure types, measured length of infrastructure from aerial images, estimated water depths of infrastructure from navigational charts, and field verified his assumptions in order to crunch his estimates through The Matrix. The final version of The Matrix and a written case study example will be made available later in 2019.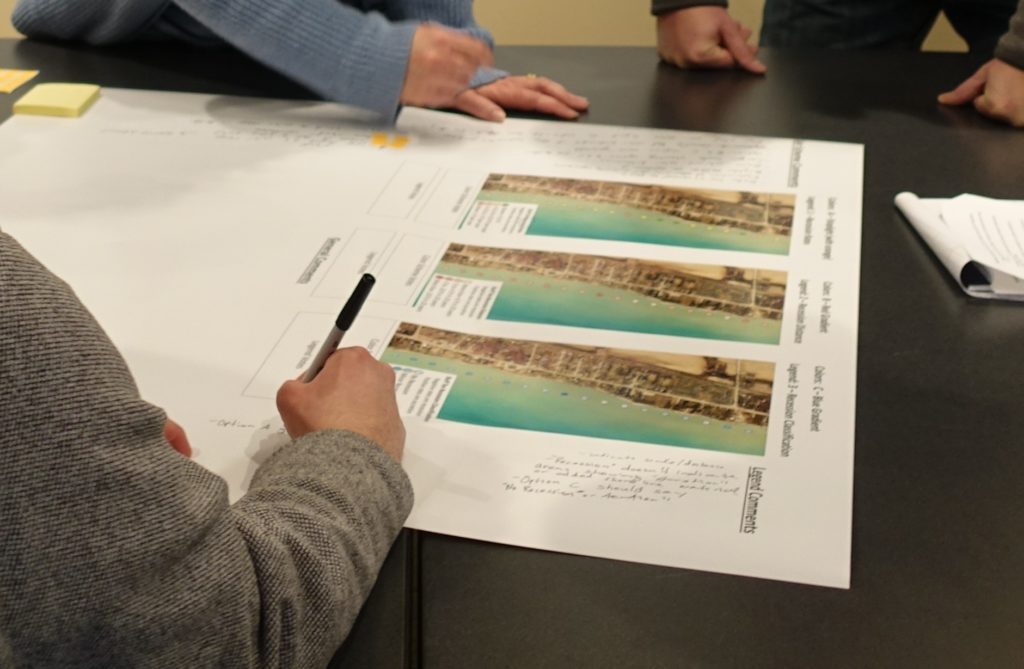 Continuing with the theme of Coastal Resilience Tools, Professor Chin Wu of UW-Madison discussed how he and his students measured historic bluff and shoreline recession rates throughout the region from analysis of aerial photographs. To make this information available, Professor Wu is working with the Association of State Floodplain Managers on an online viewer. Meeting attendees provided feedback on how this data would appear in the viewer though a facilitated small group activity. The Coastal Resilience Team received a lot of good feedback from participants and is incorporating that into the final viewer. Recession rate data will be made available on the Wisconsin Shoreline Inventory and Oblique Viewer later this spring.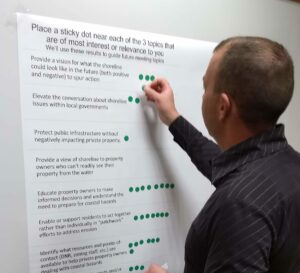 At the conclusion of the meeting, David Hart, Wisconsin Sea Grant Assistant Director for Extension, reflected on the Coastal Resilience Boat Tours that took place in October 2018 (see recap blog post here). In recapping the tours, David presented some of the main themes that came out of conversations on the boat. On their way out of the meeting, attendees identified which of the themes were most important to them with a sticky dot voting exercise. As you can see from the results, we have some great topics to discuss at future meetings. Thanks to everyone who participated in the Winter 2019 Community of Practice Meeting and for those who couldn't make it, we hope to see you at the next one.