A state agency that supports coastal resilience through technical expertise and funding.
---
Introducing: The Wisconsin Coastal Management Program
"Enjoy and Protect Wisconsin's Great Lakes Coastal Resources"
Who are they?
The Wisconsin Coastal Management Program (WCMP) is a state program within the Department of Administration, focused on coastal resources around the Great Lakes. They are federally-approved and funded through the National Coastal Zone Management Program which is administered by the National Oceanic and Atmospheric Administration (NOAA). The national program allows for voluntary partnership between the federal government and U.S. coastal and Great Lakes states and territories. It was authorized by the Coastal Zone Management Act (CZMA) of 1972 to address national coastal issues. The only state that does not have a Coastal Zone Management program is Alaska. The CZMA's enaction provides the basis for protecting, restoring, and responsibly developing diverse coastal communities and resources.
WCMP, which has been around since 1978, is aimed at preserving and improving access to the natural and historic resources of Wisconsin's Great Lakes coasts. They aim to orchestrate the management of ecological, economic, and aesthetic assets of the Great Lakes coastal areas. Some of the objectives that this program tries to accomplish involve improving the implementation and coordination of regulations and policies affecting the coast, planning initiatives, assistance in coastal management, increasing public awareness, and involvement. In order to do this, they partner with state, local, and tribal government agencies and non-profit organizations to provide technical and financial assistance.
WCMP home page: http://coastal.wisconsin.gov
How does WCMP support Resilience?
The Wisconsin Coastal Management program's main strength in helping coastal communities build resilience is connecting them with resources through their extensive network of partners and providing funding directly through their annual grants program.
Networking: Connecting coastal communities to agencies and resources
The Wisconsin Coastal Management Program's work across federal, tribal, state, and local partners gives them an impressive network that can support communities as they build resilience to coastal hazards. Whether it is funding, technical expertise, or other opportunities, WCMP often can point a community in the direction of someone who may be able to help.
Funding: The annual Coastal Management Grant Program
[IMMEDIATE ACTION]: Applications are due Monday​, November 2, 2020. Contact staff at coastal@wisconsin.gov with any questions. You can find the full list of application materials, directions, and timeline here.
The Coastal Management Grant program provides grant funding to local governments, nonprofit organizations, schools and universities, and state agencies for coastal resiliency projects. The funding for these grants is made possible by NOAA's Office for Coastal Management in the U.S. Department of Commerce, with a match requirement from applicants, for innovative coastal initiatives. This year, in 2020, there were 39 grants that were awarded $1.5 million (for a total of $3.4 million, with match funding). For next year's round of WCMP grants, there is expected to be approximately $1.5 million available.
The Coastal Management Grant Program provides funding for projects falling in these categories:
Coastal wetland protection and habitat restoration

Nonpoint source pollution control

Coastal resource and community planning

Great Lakes education

Public access and historic preservation projects
If you are still looking for more information about the grant program and expectations of successful applicants check out this short webinar (about 16 min). Click the image for the video.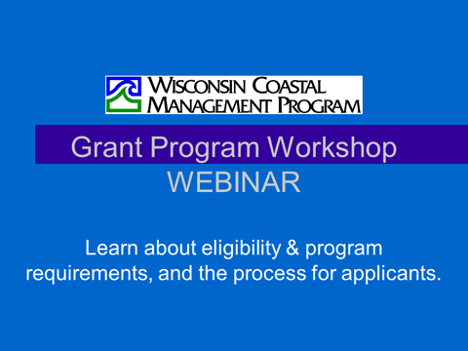 Current grant projects:
These are just a few of the grants that were awarded in 2020:
Regional Natural Areas and Critical Species Habitat Plan

Southeastern Wisconsin Regional Planning Commission

Award: $40,000

Project: Update inventory of natural area sites used by municipalities, government, and conservation organizations.

Delivering Our Collective Messaging for a Healthy Lake Michigan

Lakeshore Natural Resource Partnership

Award: $27,500

Project: Complete a water quality and Great Lakes literacy messaging campaign to raise awareness about stormwater and nonpoint pollution.

Northeast Coastal Resiliency Study

Bay-Lake Regional Planning Commission

Award: $29,851

Project: Implement the first of a two-phase project to address coastal resiliency for three communities in the Bay-Lake Region.
For more examples of successful past grant projects (2014-2019), check out this interactive story map!
Coastal grants page: https://doa.wi.gov/Pages/LocalGovtsGrants/CoastalGrants.aspx
Most coastal states have a coastal management program. If you are not from Wisconsin but live on a coast, find yours here.
Interview with WCMP
Kathleen Angel is the Wisconsin Coastal Management Program's Federal Consistency and Coastal Hazards Coordinator. She was kind enough to answer a few questions about the program and how it fits in to coastal resiliency. If you have more questions and want to reach out to her directly her email is kathleen.angel@wisconsin.gov.
1) What gaps does the Wisconsin Coastal Management Program fill that other agencies do not?
The Wisconsin Coastal Management Program provides technical and financial resources to protect, restore, and enhance the State of Wisconsin's coastal resources. WCMP seeks to improve coordination between governments, organizations, and agencies. It's a state program with strong connections to local, tribal, state, and federal government, which allows WCMP to help leverage opportunities and funding.
2) Where does WCMP overlap with other agencies and how does that affect the operation of WCMP?
WCMP's structure minimizes overlap with other agencies. A core role of WCMP is to facilitate and coordinate efforts of other agencies. WCMP is not, for example, a regulatory program: all of its policies come from existing state policies and regulations. WCMP does, however, seek to improve the implementation of state and local regulations and policies. There are other agencies and organizations with similar goals to WCMP, including Wisconsin Sea Grant. WCMP addresses works closely with those groups, formally and informally – by having someone from Wisconsin Sea Grant on the Wisconsin Coastal Management Council, for example.  
3) Do you have funding or other resources available and what can it be used for?
WCMP receives federal funding on an annual basis. About $1.5 million of the annual award is made available to communities and organizations through competitive grants. Eligibility depends a bit on the project details: in general, non-profits, schools, state, local, and tribal governments may apply for the funding. Funding can be used for a variety of projects, from education, to community planning, to on-the-ground improvements. The projects need to be within Wisconsin's Coastal Zone (which includes the counties along Lake Superior and Lake Michigan) and they need to have clear impacts on Wisconsin's coastal resources. In addition to financial funding, WMCP provides technical assistance and coordination to our coastal communities and organizations.
4) What can you do for people who have immediate problems?
For individuals facing significant erosion or flooding issues, WCMP may be able to connect them to experts or agencies that are able to help them. We work pretty closely with Wisconsin Emergency Management. WCMP may not have the resources to provide the exact assistance someone is looking for but we'll do our best to help them find the right contacts.
5) Which other organizations do you collaborate regularly with?
The National Oceanic and Atmospheric Administration, Wisconsin Sea Grant Institute, Wisconsin Emergency Management, Wisconsin Department of Natural Resources, UW-Madison Department of Civil & Environmental Engineering, UW-Madison Department of Geoscience, The Association of State Floodplain Managers, Wisconsin's Geographic Information Officer, The State Cartographer's Office, Bay-Lake Regional Planning Commission, Northwest Regional Planning Commission, Southeastern Wisconsin Regional Planning Commission, Wisconsin Wetlands Association, county, local, and tribal governments. That's for resiliency efforts, but WCMP works with many more.
6) How have communities used coastal management grants to address coastal resiliency?
In recent years, WCMP has seen many applicants looking to address community resiliency in a variety of ways. Some examples: when Saxon Harbor experienced severe damage from a flooding event, WCMP was able to provide funding for a redevelopment plan. The work that WCMP helped to fund put Iron County in a good position to leverage other funding opportunities. Another example is a project that is just starting up. WCMP has provided funding to Bay-Lake Regional Planning Commission to develop a Coastal Resiliency Study for three counties in their region, using many of the resources developed through the Southeastern Wisconsin Coastal Resilience Project. Finally, WCMP has been able to provide funding for a variety of projects that helped to create and improve the Wisconsin Shoreline Viewer. The Association of State Floodplain Managers maintains the site, with research provided by UW-Madison Geoscience professor emeritus David Mickelson, among other contributors. The Shoreline Viewer includes multiple data sets of shoreline inventories, photos, and, more recently, some coastal recession information. It's a great resource for individuals and communities who want to understand and document how their shoreline has changed.  
---
October 12, 2020
By Kayla Wandsnider, Coastal Resilience Project Assistant, Wisconsin Sea Grant