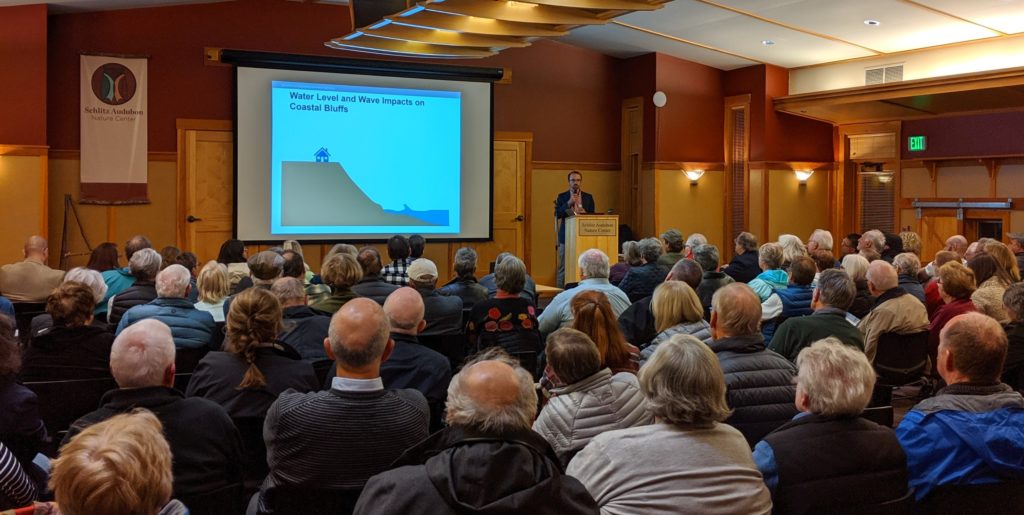 Meeting summary from October 17, 2019 Great Lakes Water Level Informational meeting.
---
October 2019 Great Lakes Water Levels Informational Meeting

On the evening of October 17th, an informational meeting on Great Lakes water levels was held at the Schlitz Audubon Nature Center in Bayside, WI. Speakers from the United States Army Corps of Engineers, the National Weather Service, and Wisconsin Sea Grant provided an review of Great Lakes water level history, a description of the current high water conditions, an outlook for water levels in the next few months, and an overview of strategies individuals can take to deal with the effects of high water levels. Below you can find a recording of the meeting below, a brief summary of the meeting with links to each presenters' slides, and links to the handouts from the meeting.
Meeting Recording
(see video description for shortcut links to each presentation)
Meeting Summary
A crowd of over 100 people filled the auditorium at the Schlitz Audubon Nature Center while nearly 50 individuals participated in an online stream of the event. Most attendees were home owners from Milwaukee, Ozaukee, or Sheboygan Counties, with a few attendees making the trip from Racine and Manitowoc Counties. A good number of local government staff and elected officials were also on hand, as well as a few engineers and contractors.
Great Lakes Water Levels
Keith Kompoltowicz, Lauren Fry, Krystle Walker – U.S. Army Corps of Engineers -Detroit District
Download Slides
Shortcut to Recording – https://youtu.be/7hSwMUJ_cYI?t=647
Keith Kompoltowicz of the United States Army Corps of Engineers (USACE) – Detroit District led the meeting off with a description of Great Lakes hydrology, the drivers of water level changes, and the current water level conditions on the Great Lakes.
Lauren Fry, also of USACE-Detroit District, covered the forecast and outlooks of water level conditions over the next six-months which indicate that the Great Lakes will likely remain at above-average water levels even under conditions favorable for a big water level decline.
Krystle Walker of USACE-Detroit District Emergency discussed the types of Emergency Assistance available to Great Lakes communities dealing with water level issues and how to access these services.
Lake Michigan Water Level Outlook
Marc Kavinsky and Sarah Marquardt, National Weather Service in Milwaukee/Sullivan
Download Slides
Shortcut to Recording – https://youtu.be/7hSwMUJ_cYI?t=2578
Marc Kavinsky of the National Weather Service Milwaukee/Sullivan Office covered water levels from a meteorological perspective, explaining the record-setting precipitation weather patterns that have been behind our high water levels. Marc also provided the most updated temperature and precipitation outlooks for the region which suggest a high probability of above average precipitation in the Great Lakes region for winter and spring. Marc closed out his presentation with a summary of the lakeshore flooding warnings that NWS is issuing on days when strong winds bring large waves and storm surge onshore.
Coastal Bluff Recession and Adaptation Options
Download Slides
Adam Bechle, Coastal Engineering Outreach Specialist, Wisconsin Sea Grant
Shortcut to Recording – https://youtu.be/7hSwMUJ_cYI?t=4288
Adam Bechle of Wisconsin Sea Grant discussed the processes that lead to coastal erosion which include water levels and storm waves but also surface water, groundwater, and human changes to the coast. Adam then described a "top-down" approach to protecting coastal properties that takes into account all of these processes that can affect coastal erosion. Starting at the top of a bluff or bank, proper management of land use, water, and vegetation can help slow erosion of the coast. Working down the bluff, water and vegetation management are still important and stabilization of the slope may be necessary if bluff collapse is of concern. At the water line, shore protection should be carefully considered due to cost and potential impacts to neighboring properties and used only if absolutely necessary to protect a property. By implementing a "top-down" approach, a property owner can sometimes avoid some of the more costly approaches to protecting coastal investments.
Adam finished his presentation by reviewing a list of resources about coastal processes and the potential options to help protect property.
Question and Answer
Shortcut to Recording – https://youtu.be/7hSwMUJ_cYI?t=5990
A lively question and answer period followed the presentations. Questions ranged from long-term outlooks on water levels decades into the future to short-term flooding concerns and everything in between. The depth and breadth of questions was indicative of an engaged, informed and passionate audience.

Meeting Handouts
Resources for Great Lakes Coastal Property Owners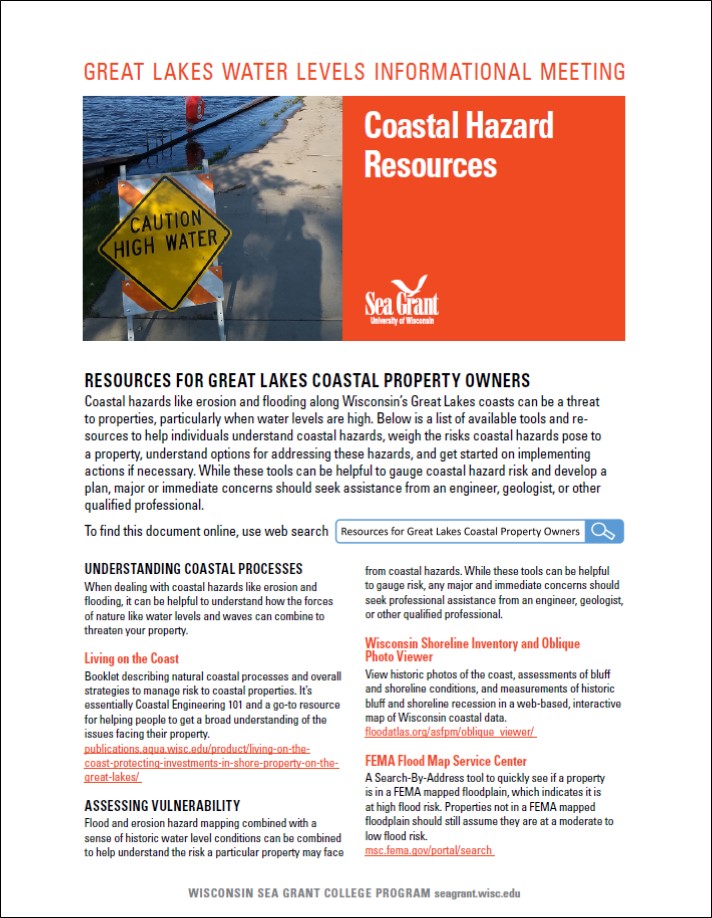 This handout has a list of available tools and resources to help individuals understand coastal hazards, weigh the risks coastal hazards pose to a property, understand options for addressing these hazards, and get started on implementing actions if necessary. While these tools can be helpful to gauge coastal hazard risk and develop a plan, any major or immediate concerns should seek professional assistance from an engineer, geologist, or other qualified professional.
Discussed by multiple speakers, this booklet provides a brief description of the Great Lakes' coastal environment as well as advice about how to protect coastal investments. Options are discussed for bluff stabilization, controlling surface waters and groundwater, and building sustainable shoreline protection structures. In addition, considerations are included to help users engage designers, engineers, and contractors in implementing long-term stabilization solutions. Moreover, a section that addresses risk management and the economics of protecting coastal investments covers shore property features and value, government regulation, costs of implementing shore protection, and considerations for climate change. The booklet was co-published by the U.S Army Corps of Engineers, Detroit District and the University of Wisconsin Sea Grant Institute.
---
By Adam Bechle, Coastal Engineering Outreach Specialist, Wisconsin Sea Grant